Shopping Cart
Your Cart is Empty
There was an error with PayPal
Click here to try again
Thank you for your business!
You should be receiving an order confirmation from Paypal shortly.
Exit Shopping Cart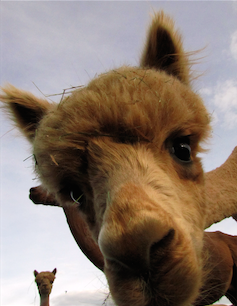 Prometheus (Center) and Baxter (Far Left) wondering where their treats are.
Shearing Season, 2015 is officially over. Everything went without a hitch, with the wonderful aid of Ernie and Denise Gamroth from Battle River Alpacas, who were so kind as to come up and s...
Read Full Post »
The 2015 show season kicked off last weekend for us, with the Northlands A.L.P.A.C.A. Spring show. We took 7 animals down to Edmonton for the weekend to enjoy the show, and we are pleased to say that the show itself was an awesome success (even if none of our guys did anything, it would have still been an awesome weekend). 
As I'd said, we took 7 animals down, with it being a pretty even split between both boys and girls. Bocelli, Hunter, Prometheus and Diego were our m...
Read Full Post »
Cria season 2014 seems to be winding down, as the final two cria of the expected 4 pregnancys from last year are on the ground. As already mentioned in the previous shearing post, both Angel and Hespera graced us with two lovely fawn males out of Hummer and Prudence prespectively.
Next to drop was Armelia, with a stunning little fawn female out of Ernie and Denise's grey male Low & Order. In honour of her sire, we have decided to name her "Lady Justice", though her call name will be...
Read Full Post »
0

/